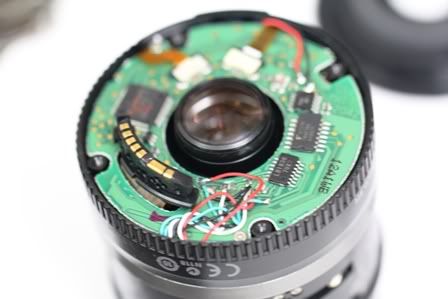 I was looking for a small lens to do some reverse macro photography using my Canon EOS550D, one of our fellow photographer and trekker "Deep" gave me a Canon EF-S 18-55 IS lens to play around which was out of order for some times. Whenever I attached the lens to the camera body, the camera gave some error message that it cannot communicate with the lens properly (I have forgot the exact error code). I have tried to use it in reverse but there was nothing coming through.




After few days I decide to open the lens to see what is wrong inside, as Dip mentioned earlier that he was taking some photos in the rain which might have damage the lens, my suspicion was that there might be rust in the contacts which needs a proper cleaning with contacts cleaner. To open the lens was a bit hard for me; everything was so delicate that I was afraid to apply force. As I have never opened a SLR lens before it was like exploring a whole new world. After 2 hours I managed to dismantle the whole lens without breaking anything 🙂




The culprit was the thin connection ribbon (I hate these ribbons, So many expensive (500$ +) and nice built gadget from reputed manufacturer failed just for this stupid thing, my first Sony walkman, my Nokia 7650, my Panasonic DMC FZ30's LCD display, my XDA II's keypad, My Kenwood VHF/UHF walkie-talkies, and so on…..). One end of the ribbon was connected at the circuit board and the other end went to the aperture control unit. I have checked with the CANON distributor and they said the whole assembly along with the aperture control unit with small lens would cost me around 70$. To me it was waste of money to spend 70 bucks for fixing a years old cheap kit lens which itself might cost 200$, and on the other hand there was no surety that everything else is fine with that lens. I have talked with Deep and he agreed that I can do all my experiment (most of the time I even don't let people know the results of some of my attempt of fixing electronics 😉 ) with that lens as it is of no use to him and he already have a better lens for his EOS 7D.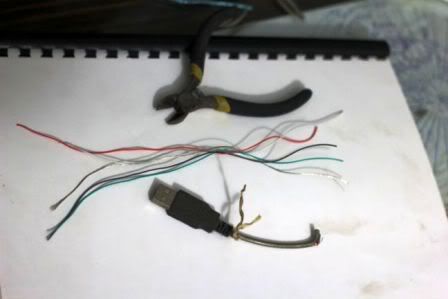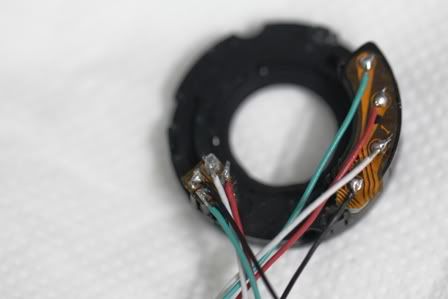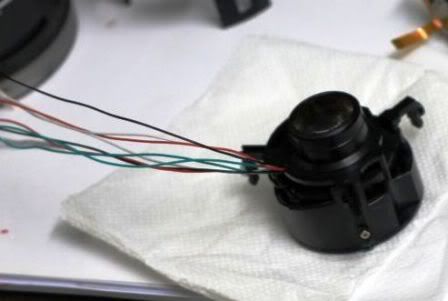 I decided to solder thin wires in place of the foil ribbon. After looking in my junks which was in few big cartoon boxes I saved all the years like some precious gems and most of the time spare parts came from those, I found a computer keyboard with thin cord, so I know there must be very thin wire inside it. I have cut the USB side of the keyboard and torn out 8 wires of 6 inch length. Next I dismantle the tinny aperture unit, remove the ribbon and solder the 8 wires with some marking. Fixing the aperture unit properly was a nightmare. When trying to assemble the front part of the lens I figured that I completely forgot which one will go after what. Playing about three hours I then able to fit it properly except the top circuit board. I call it an end as it was 3am in the morning and was almost falling sleep. Next morning I have started again and removed the tinny socket in the circuit board where the ribbon was suppose to fit. Carefully de-soldered and cleaned the board. It was almost impossible for me to solder 8 wires within that 3mm area using an ordinary Goot 25watt soldering iron (I always dreamed about a hot air soldering station but now though I can effort one but do not have any utility as I stopped hobby electronic many years ago) and lead. So I started tracing the lines and found 5 test points for 5 lines, and also found where the rest of the lines went to connect some components like SMD resistor and ICs. Very carefully I placed the circuit board and put all the screws then started soldering the wires to the test points and ICs pins.
After I was satisfied that all the connections were done properly I completed the task by putting the mount side of the lens, installing the rubber grip in place and fixing it with my EOS 550D. Took some photos and it proves ok. This time no error message from the camera.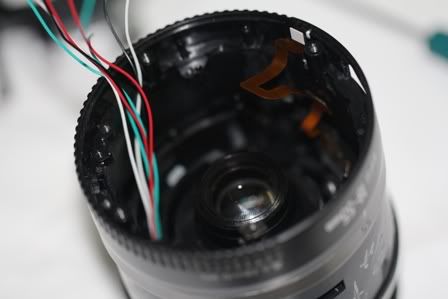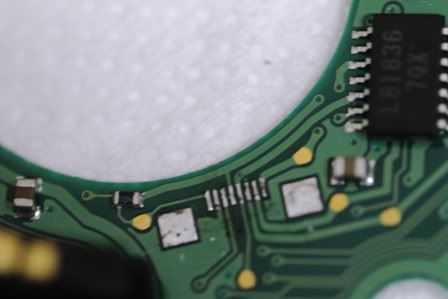 The only problem I found was that the auto focus was not working, I could hear the motor whirling inside but neither the lens front moves nor it focus. Manual focus worked though. I was thinking that while the lens was broken maybe people rotated the focus ring many times with the focus option set to auto which caused the gear tooth smoothed and that's the reason it is not working. Then it has also come to my mind that maybe the newly installed wires inside the lens are not flexible enough for the motor to move the lens front. Anyway I am happy with it as anyway the auto focus will not be used for doing reverse macro. Maybe in future when I will get some time I will open that lens again to see why it was not doing auto focus, for the time being I only need to clean the glass and remove all my finger print from it 😉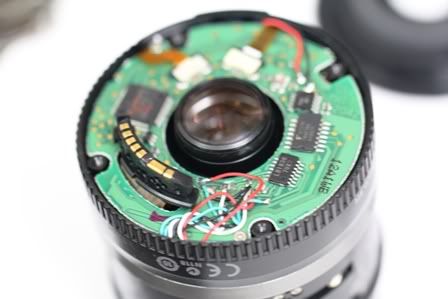 January 14th 2011
Dhaka, Bangladesh

** Please leave a comment to keep my moral and inspiration up 🙂